MahaMobile
Try our new Mobile Banking App - MahaMobile
Experience banking at your fingertips with the MahaMobile App. Activate it on your mobile today to view your banking transactions, do instant money transfer to your loved ones, and pay your bill in time from anywhere, anytime.
Safe
Easy
Convenient
Send an SMS MAHAMOBILE TO 9223181818 to get the download link
or find us on the app stores
Download Applications
How to Activate Instantly
Download the Mobile Banking Application from the respective app store and open
Install MahaMobile from relevant App Store
Click on New User Registration button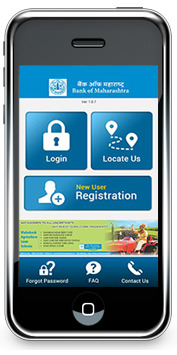 Click on New User Registration
Accept the terms & conditions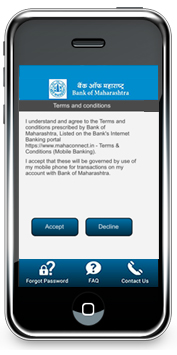 Read and accept the terms & conditions
Enter your User ID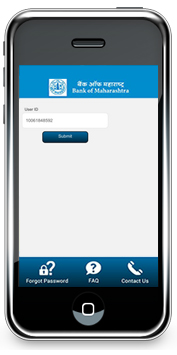 Your User Id is your 11 digit CIF or Customer id Number. if you don't know your CIF number, contact call center.
On Submit, an automated SMS* is sent from your bank. In case you get a pop-up asking you to visit branch, you have either not registered your mobile number with the Bank or you are using a SIM other than that of your registered mobile number. For Dual SIM Mobiles phones ensure your registered number is the default SIM.
*Standard charges to send an sms applied
Choose your registration method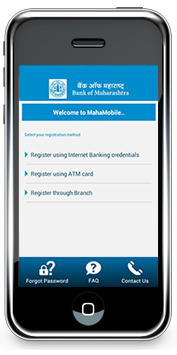 You now have three options to complete registration
Internet Banking : Verify with Net Banking User ID and Password
ATM Card : Verify with 16 digit Card Number and PIN
Branch : Submit application at branch and verify with the 5 digit token you get on SMS
Set your MPIN & MTPIN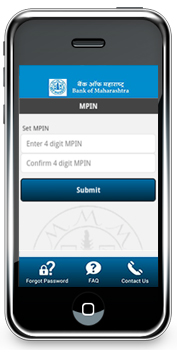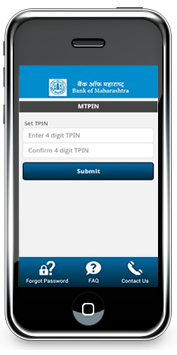 MPIN (Password to login to app)
MTPIN (Password to authenticate fund transfer & bill pay)
Congratulations! You can now use MahaMobile for over XX banking transactions. For more help, open the side menu to view FAQ, contact our customer care or visit one of our branches near you
What are the features available?

Banking
Balance Enquiry & Mini Statement for
Savings & Current Account
Fixed & Recurring deposit
Loan Accounts

Fund Transfer
View/add/modify/delete beneficiaries
Transfer to accounts within Bank
Transfer to other bank a/c with NEFT*
Transfer to other bank a/c with IMPS*
Bill Pay
Add/Delete billers
View & pay bills
Instant bill pay (without biller addition for select billers)
Check bill payment history

Card Services
Apply for debit/credit card
Reset ATM PIN
Block debit card
Service Request
Search past transactions
A/c statement request
Cheque Book Request
Cheque Status Enquiry
Stop Cheque
Demand Draft Request
Apply for loans

VAS
Log Complaint
Mobile Passbook
Change MPIN & MTPIN
IMPS
Immediate Payment Service (IMPS) is an instant interbank electronic fund transfer service through mobile phones. It is also being extended through other channels such as ATM, Internet Banking, etc.
NEFT
National Electronic Funds Transfer (NEFT) is a nation-wide payment system facilitating one-to-one funds transfer. Under this Scheme, individuals, firms and corporates can electronically transfer funds from any bank branch to any individual, firm or corporate having an account with any other bank branch in the country participating in the Scheme.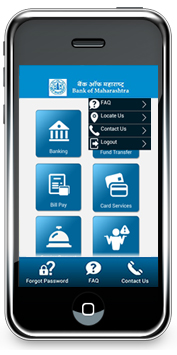 Frequently Asked Questions
Branch/ATM Locator across India
Contact Centre Details
Service Charges
At present there are no charges levied for the mobile banking application and no charges will be levied for the funds transferred to other accounts within the Bank. For funds transfer to other bank accounts through NEFT, appropriate service charges as per Bank's guidelines will be debited by the system. In case of Issuance of Cheque Book or Physical Statement of Account courier/ postal charges will be debited to customer's account if Mode of delivery is "Delivery on Customer's Address" @ Rs. 50/- per request.
Transaction Limit
Transaction Limits in the Mobile Banking are as follows.
| Sr No | Particular | Transaction Amount Limit |
| --- | --- | --- |
| 1 | Transfer to Own Account | No Limit |
| 2 | Transfer to Other BOM account | 50000/- per day |
| 3 | NEFT | 50000/- per day |
| 4 | Utility Bill Payment | 50000/- per day |
| 5 | IMPS | 50000/- per day |
Who can avail the facility?
All types of savings bank account holders in the individual capacity or joint account holders operated on either or survivor basis.
All sole proprietorship firm Current Account and Cash Credit Account holders

Pre requisites for availing MahaMobile Banking Services
The customer should have the following to use the mobile banking application.
Android, IOS, Windows mobile phone.
Data Connectivity in the mobile phone
The application is carrier-independent i.e. customers can avail of the mobile banking service with the Bank irrespective of the service provider for their mobiles, subject to availability of Data Connectivity & ability of the Mobile Device to run MahaMobile applications. The cost of Data connectivity will be borne by the customers.
Our Most Popular Products